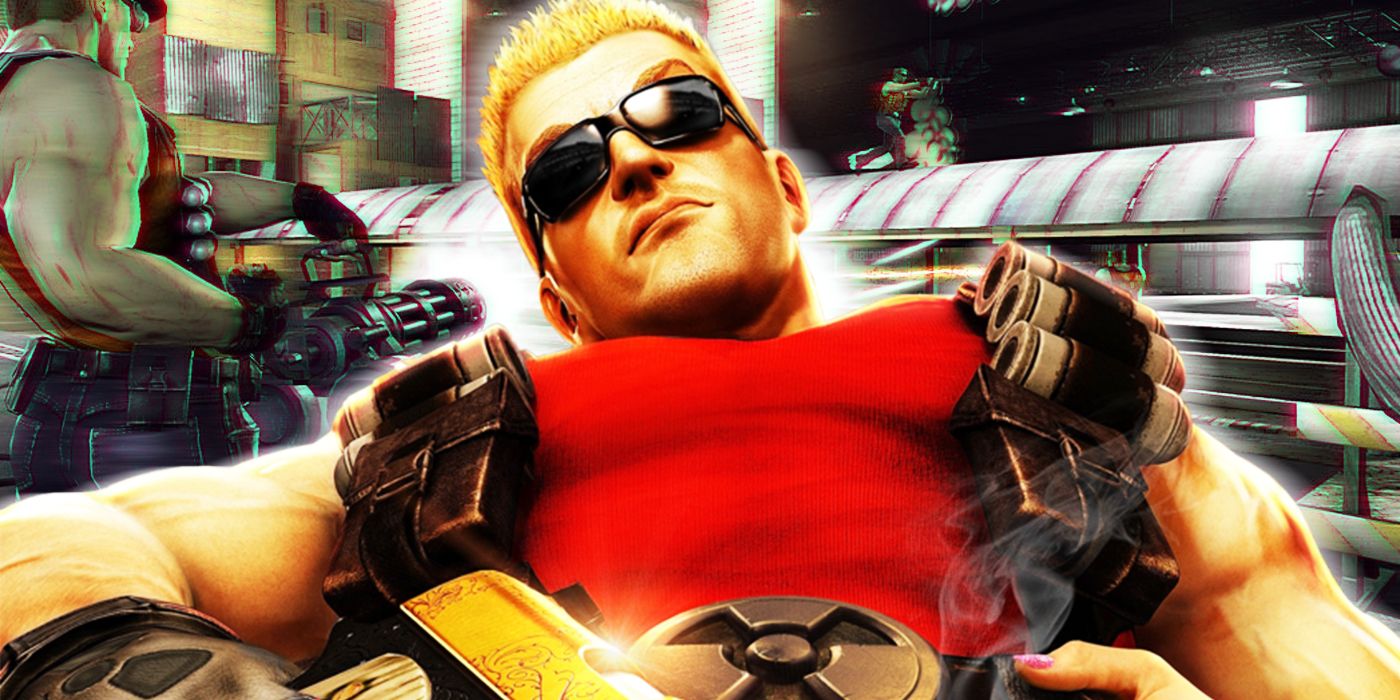 What Caused the 3D Realms' Sequel to Fail?
Duke Nukem Forever has become a punchline in the history of video games, but the backstory of the game is one of more than just troubled development.
Duke Nukem put 3D Realms firmly on the map with the success of Duke Nukem 3D. The company has been far from perfect, though, from problematic messages in Ion Fury to the now-infamous Duke Nukem Forever. What should have been the biggest blockbuster game of the '90s ended up releasing decades later and falling flat on its face.
3D Realms co-founder George Broussard shared the first tease of Duke Nukem Forever in April of 1997. Back then, the game used the Quake II engine and promised a mid-1998 release. This was missed due to what became a recurring problem during the game's development: Broussard's never-ending quest to make the game the absolute best he felt it could be. Broussard was constantly examining the industry and would often tinker with the game, starting with shifting away from the Quake II engine.
Continue scrolling to keep reading
Click the button below to start this article in quick view.
RELATED: What Happened To Pokémon?
Despite an impressive showing at E3 1998, George set his sights on the Unreal engine that Epic had recently unveiled. With this change, the title's first engine swap had occurred only 14 months after the announcement of the older engine, but George assured fans that the game would be right back to what had been shown in no time. One programmer on the game quickly dispelled that notion, stating that the change forced the company into almost a complete work reboot.  Duke Nukem Forever had now blown by several release dates, and it was only just beginning.
Amid a string of publisher changes, 3D Realms tried to win back fans with a new trailer at E3 2001, which was the first time the game had been seen since E3 1998. The fans ate the footage up, making it the talk of the convention, especially as they drew closer to a full release. That excitement would not last long, however, as the studio now found itself under Take-Two Interactive, and the problems of Broussard's planning were bubbling again. Many former employees describe Broussard and his partner, Scott Miller, as working with a 1995 mentality, only having an 18 person team working on Forever by 2003.
Broussard and Miller had been using their own cash to fund the game up to this point, but Take-Two was getting impatient with the constantly in-development title.  Broussard's go-to reply for a release had become "when it's done." Take-Two's Jefferey Lapin spoke out to say the game would not release in 2003, and the company was going two write off its losses, which only caused more friction with Broussard. Between the delays and the conflict with Take-Two, many of the members of the 3D Realms team were beginning to tire of the whole thing. It was already 2005, and the unfinished Duke Nukem Forever was the only game many of them had worked on.
RELATED: The Witcher 3 Director Exits CD Projekt SA Over Bullying Allegations
By 2009, Broussard and Miller had spent at least $20 million of their own money. May of that year saw the company shrink heavily, and after another dispute with Take-Two, 3D Realms announced they would cease development. It looked as though that would be the end of the saga of Broussard's masterpiece, but it would not be. Facing certain defeat, 3D Realms approached another company, whose CEO decided it couldn't end just yet.
That CEO, Randy Pitchford, had formed Gearbox Software. After George Broussard approached him about helping to finish their game and port it. Randy approached 2K Games in order to get Duke's gears spinning once again. With Gearbox helming the project, the game officially got a new announcement in 2010 and was slated for release in 2011. Duke's big return moved across the release finish line on May 3 and 8, ending a 14-year development.
Unfortunately, it wasn't the happy ending a tumultuous outing like Duke Nukem Forever deserved. Forever saw middling to unkind reviews, which was a disappointment to developers. That it released at all is a miracle, but Duke Nukem Forever's ultimate demise came from within.
KEEP READING: Critics Love Resident Evil Village's High Tension, Fast-Paced Horror Tone
Resident Evil Village's Amazon Listing Is Overrun by Explicit Lady Dimitrescu Art
Denial of responsibility!
Verve Times is an automatic aggregator of the all world's media. In each content, the hyperlink to the primary source is specified. All trademarks belong to their rightful owners, all materials to their authors. If you are the owner of the content and do not want us to publish your materials, please contact us by email –
[email protected]
. The content will be deleted within 24 hours.