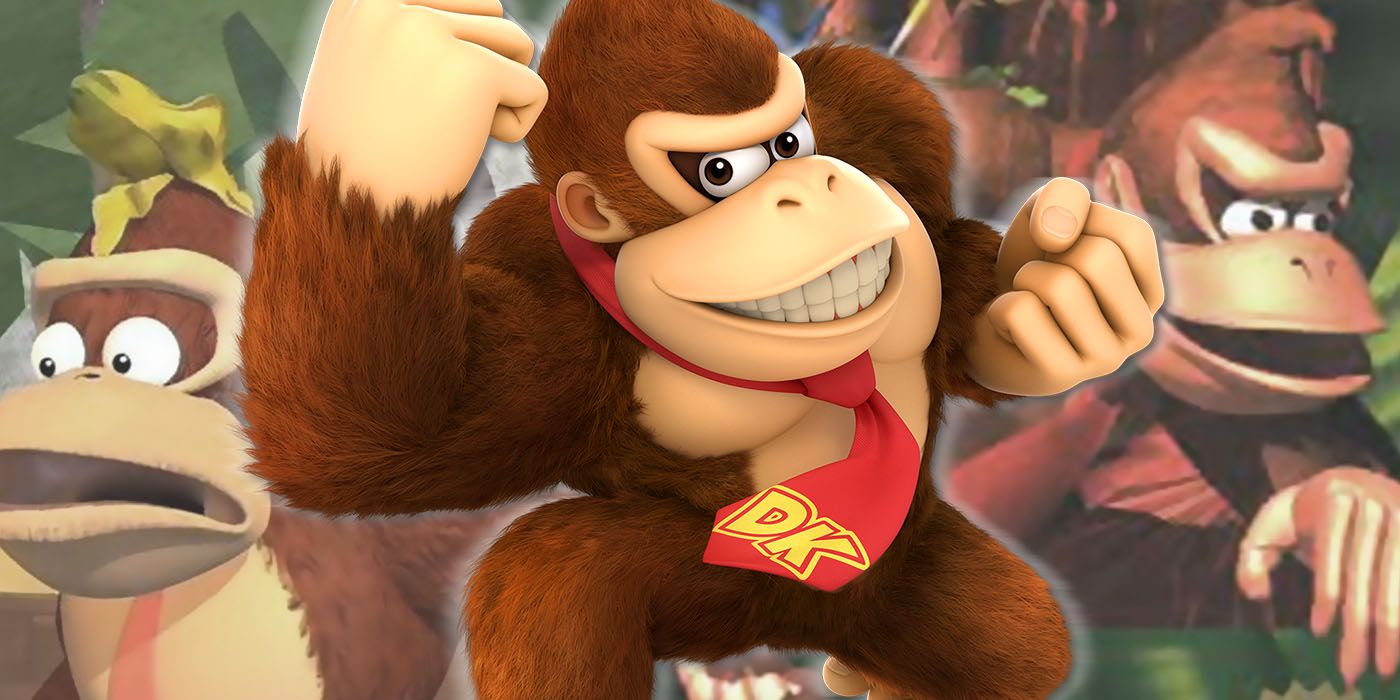 Nintendo: 5 Weird Facts About Donkey Kong's Body
The evolution of Nintendo's iconic Donkey Kong character has led to some odd and unexpected revelations about the ape's unique physiology.
After 40 years, Nintendo's iconic character Donkey Kong has seen a lot, including an epic expansion of his family. The barrel-tossing baddie, whose name was originally meant to translate as "stupid gorilla," is often thought to be a terrible villain, out to crush poor Mario. However, those who think that are mistaken, as the Donkey Kong who continues to star in video games to this day is not the same gorilla who kidnapped Pauline back in the day.
Still, Donkey Kong is no ordinary simian. There are plenty of weird things about Donkey Kong's physiology and psychology that set him apart from other primates, making him both a foe to be reckoned with and a hero to root for.
RELATED: Super Mario Anatomy: Five Weird & Gross Facts About Bowser's Body
Donkey Kong's Hair Is More Human Than Primate
The iconic curl atop Donkey Kong's head has always been a little weird, but it sets him apart from other apes and makes him unique. Nintendo has confessed that the curl was meant to give him a more human appearance and actually mimic human hair. Perhaps making him more human would lend to his being a more identifiable hero, rather than a villain trying to crush his former owner with rolling barrels.
That weird curl may even be what drew Donkey Kong's original owner, Jumpman — the carpenter who looks an awful lot like Mario — to the ape in the first place.However, chances are it was his brawn that made him a prime candidate for hard labor under Jumpman's yoke.
There May Be a Reason for Donkey Kong's Lack of Intelligence
No one can accuse Donkey Kong of being the smartest ape on the block, but the reason for this may be more complicated than originally imagined. When King K. Rool tricked Donkey Kong by using a robot to impersonate his girlfriend, Candy, it was hard to imagine how he couldn't tell his own girlfriend from a machine. To make matters worse, when Robot Candy got close enough to Donkey Kong, she gave him a trim, revealing something bizarre that could explain why he was so easy to trick — that curl isn't just hair. Donkey Kong's skull shapes upward into a curl looming over his pronounced brow, which begs the question: Where is his brain?
RELATED: A Legend of Zelda Theory May Reveal 'Dark Link's' Identity – But Does It Make Sense?
The Kongs Share Some Key Personality Traits
Donkey Kong is the grandson of that age-old barrel bomber Cranky Kong from the original 1981 Donkey Kong game, who himself was really a gorilla fighting for his freedom from the oppressive Jumpman. Over the generations, the Kong family has become much smarter, even learning to speak proper English and conduct himself respectfully when it's required.
Still, modern-day Donkey Kong has a similar explosive temper to his relatives. This sometimes gets him into trouble, as seen in games like Mario Kart and Mario Strikers Charged where he can get a little out of hand (and even violently aggressive) when he gets excited. Perhaps that ties back to his oddly shaped brain and skull, or the fact that he's a gorilla.
RELATED: Super Mario's Darkest Fan Theory Is Too Morbid to Be Real… But It Makes Sense
Donkey Kong Runs Like a Horse
The developers of Donkey Kong spent a lot of time filming and studying gorillas before designing the game so they would have realistic reference points to base the character's movement on. The one thing they learned, however, was that the way gorillas traveled wasn't exactly what they wanted for their hero.
Throwing everything they learned in their studies out the window, the developers instead focused on the way horses run and gallop, which gives Donkey Kong a bit of grace that real-world gorillas lack. Basing Donkey Kong's movements off an entirely different beast may not be true to life, but it allows him to swiftly get where he's going without the awkward, jerky maneuvers that would otherwise make it difficult for him to arrive in style.
RELATED: Every Mario Party Superstars Unlockable (and How to Unlock Them)
Donkay Kong Is Supersized
Donkey Kong is drastically larger than a typical gorilla. In the real world, the average male gorilla weighs around 500 pounds and stand about six feet tall when fully upright. According to the talking microphone in Donkey Kong 64, Nintendo's primate weighs 800 pounds and stands at around 7′ 10″ upright.
When down on his knuckles, Donkey Kong is just over six feet tall, meaning that, even when he's down on all fours, he would still come eye-to-eye with a regular gorilla standing on its hind legs, and outweigh it by more than half. In a fight between Donkey Kong and the average gorilla, all bets would safely land on Donkey Kong, who is not only much larger, but has decades of combat experience under his belt.
KEEP READING: Pokémon Brilliant Diamond and Shining Pearl's Traveling Companions, Ranked
Spider-Man's Best Game Mode Draws Inspiration From Marvel's Wackiest Series
About The Author
Denial of responsibility!
Verve Times is an automatic aggregator of the all world's media. In each content, the hyperlink to the primary source is specified. All trademarks belong to their rightful owners, all materials to their authors. If you are the owner of the content and do not want us to publish your materials, please contact us by email –
[email protected]
. The content will be deleted within 24 hours.