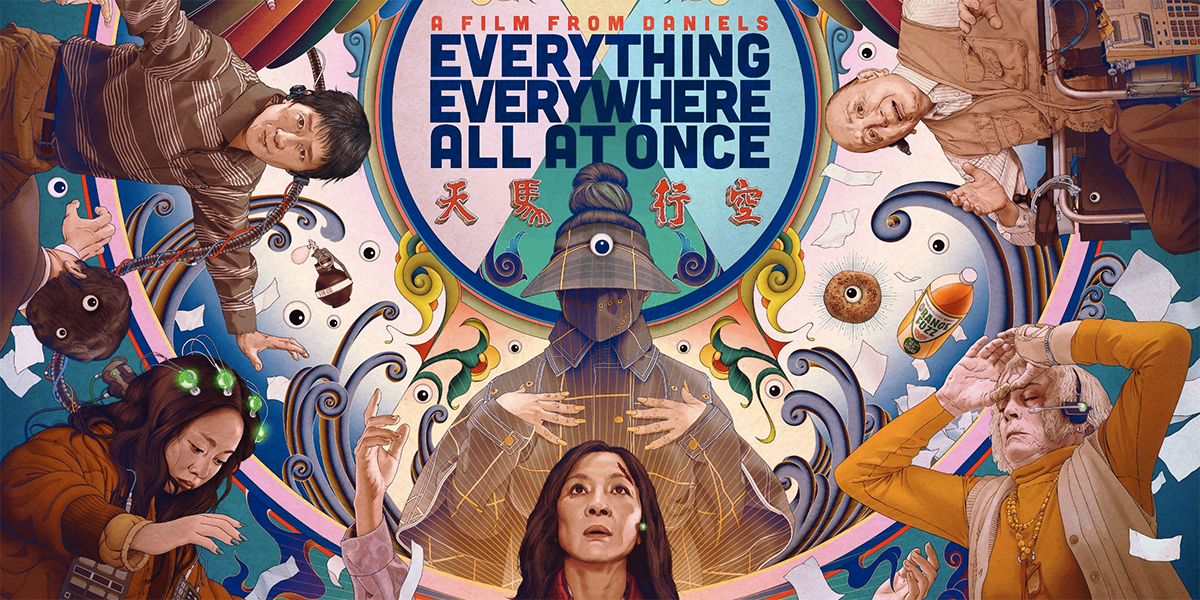 EVERYTHING EVERYWHERE ALL AT ONCE is chaotic, bizarre, and heartfelt
When it comes to genre, tone, and plot, Everything Everywhere All At Once throws all of that at the wall and out the window and into another dimension. Written and directed by duo Dan Kwan and Daniel Scheinert aka The Daniels, the genre-bending, universe jumping flick might be too much for some viewers, but for me, The Daniels and the amazing cast of Everything Everywhere were firing on all cylinders. Starring Michelle Yeoh, Ke Huy Quan, Stephanie Hsu, James Hong, and Jamie Lee Curtis, is a story about a family. At its core, it's about a family that is coming apart at the seams. Not just over small quibbles, but over life-changing events. The family is at a crossroads, and in front of them are a thousand different paths that they could take.
Yeoh stars as the hard-working and sometimes frazzled Evelyn Wang, the matriarch of the family. She's spent her life feeling like she's never achieved her full potential. Running a laundromat in America, she must deal with her estranged Chinese father (Hong) coming to live with the family, a marital rift between her and her husband Waymond (Quan), and trying to accept her daughter (Hsu) being a lesbian. On top of all of that Evelyn must deal with being audited by the IRS. An already rich family dynamic is bumped up to the extreme when Evelyn is visited by a different version of Waymond claiming to be from another universe. He needs Evelyn's help to save the multiverse.
To go into the details of Everything Everywhere would take far too long. But amidst a raccoon parody of Ratatouille (which is hilarious every single time), to a universe where evolution took a sharp turn and now everyone has hot dogs for fingers, to the Wong Kar-Wai inspired universe where Evelyn is a movie star like the actress playing her, there is a real story about acceptance and growth and healing. Evelyn as a character is struggling with the fear that she's tried so much in life only to become a failure. As she lives alternate lives, she is lured in by the choices that she never made. The ones that would have led to her fame and success is one she continuously returns to. The glamour of that life is a direct result of never following Waymond to America, but it's led to an emptier life one without her husband or her daughter.
And while Ke Huy Quan's Waymond is surprisingly charming in every iteration of himself, it's also Stephanie Hsu's Joy Wang that punches heart and soul into the wacky film. Joy's relationship with her mother and her yearning to be not only loved but completely accepted is immensely visceral. The generational and emotional gap between her and her mother is what we are swirling around even as the characters jump from universe to universe.
As far as action goes, Everything Everywhere is full of comical physical gags and amazing martial arts, as you would expect from Michelle Yeoh. However, having spent her career as both a stoic fighter and a stoic mom, it's completely amazing to watch Yeoh embrace this far more nuanced role. Evelyn is not nearly as perfectly coiffed or as graceful as Yeoh's other characters but she is chock full of emotion and comedy and expression. Yeoh not only reminds us of her skill as a fighter but shows off her comedic timing here.
The sci-fi elements are as insane as you could imagine. The Daniels approached Everything Everywhere like their own version of a big-budget superhero film, but if this is a superhero movie, it's completely gone off the rails and that's why it's amazing. It embraces all the oddities that come with a rich imagination. The science and logic don't have to be real, the method serves the tone and theme of the movie. That's what makes it great.
Of course, I wouldn't be me if I didn't talk about the incorporation of Chinese culture. It's out in full force with Everything Everywhere. For those who love classifying non-holiday movies as holiday movies this also doubles as the most insane Chinese New Year movie. And, maybe it also triples as a tax day movie? The movie culminates in a Chinese Near Year celebration and caps off the film with a conversation that hit on too many levels for me as a viewer. Perhaps to a non-Mandarin/Cantonese speaker, the dialogue is just dialogue, but the way that the family code switches between Mandarin, Cantonese, and Chinglish is one of the most authentic moments of the movie. It is so distinctly Chinese and Chinese American. It's an experience that I personally grew up having (for me, you'd have to throw in Shanghainese as well) and one I never ever thought I'd see on screen in a Hollywood movie.
It's more than just the fact that the family is code-switching, but the details of how the family operates. The fact that Joy, as a young adult, must translate for her parents, a job that she's probably had to do since she was a child. The fact that she and her grandfather can't fully communicate because she grew up in America. The fact that grandpa has now come to live with them because that's generally what a Chinese family does, even if you're estranged from your family. It added depth to what was also a very far-reaching plot.
Everything Everywhere won't impress everyone. It is not only weird but can be naturally alienating. Beyond the language barrier and elements of sci-fi, there are moments when the film is simply too much. It's trying to do a lot — be funny, heartwarming, weird, action-packed, mysterious — and sometimes it stumbles. But it races toward the finish line and is ultimately emotionally satisfying by the end of it all. It not only juggles Evelyn and Waymond and Joy's individual stories, but it acknowledges that the source of many of their problems is the fact that the family unit has cracks in it. A cathartic story for anyone who has sought acceptance from family, Everything Everywhere tells the story of a family on the brink who discovers how to heal and come back together wrapped in the glittery, technicolored paper of a sci-fi superhero movie.
Everything Everywhere All At Once is in limited theaters now, and will have a wide release April 8th!
Related
Denial of responsibility!
Verve Times is an automatic aggregator of the all world's media. In each content, the hyperlink to the primary source is specified. All trademarks belong to their rightful owners, all materials to their authors. If you are the owner of the content and do not want us to publish your materials, please contact us by email –
[email protected]
. The content will be deleted within 24 hours.