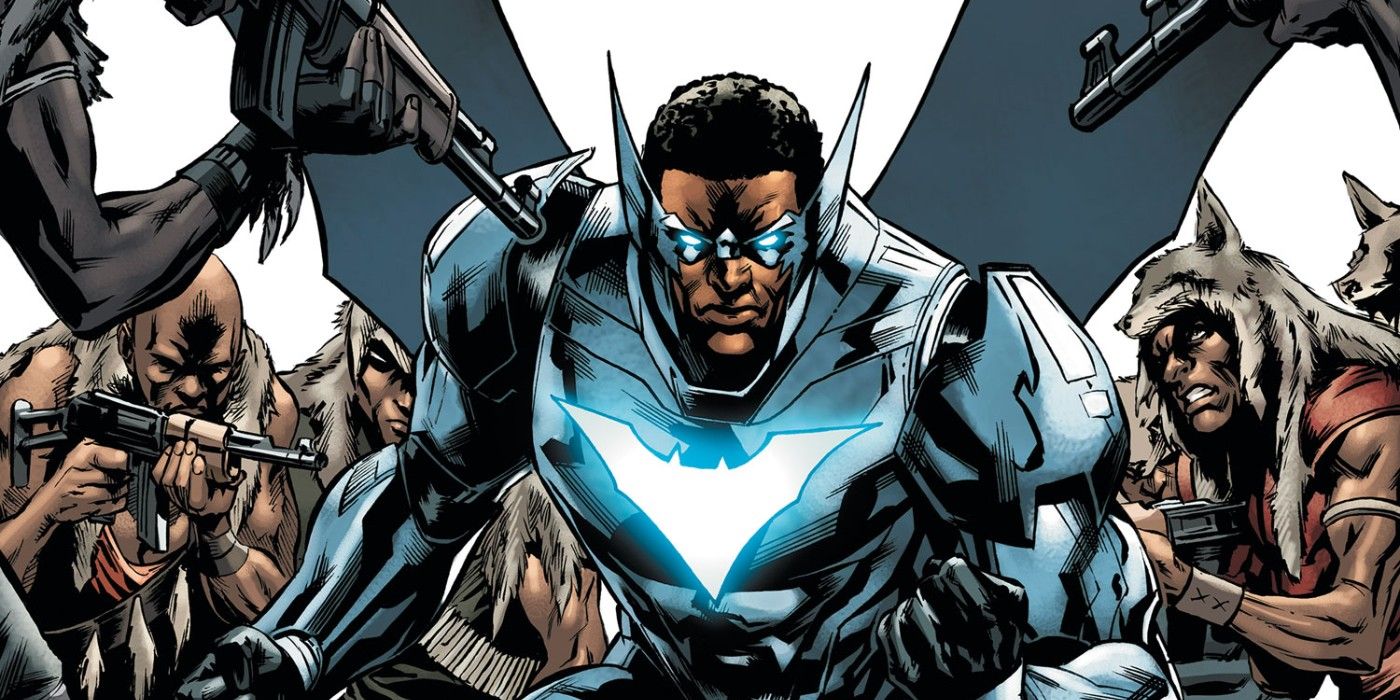 Batman: What Happened to the New 52's First Batwing?
Getting a book during the New 52, Batwing gave a look at how the Bat-legacy manifested in a very different way across the globe.
Batman has had several sidekicks and partners in crime-fighting throughout the years, be they Boy Wonders or caped and cowled ladies. One of his more recent side characters is Batwing, a title most associated with Lucius Fox's son Luke Fox. Before Fox took the mantle, however, there was another man who took the title.
David Zavimbe was the first Batwing, and his role of defending the citizens of the Democratic Republic of Congo made him the first Black Batman in comic books. During the New 52, Batwing gave a look at the way Batman's legacy manifested across the globe. Here's how the African Batman tried to put a stop to crime, and how his career of doing so came to an end.
RELATED: Grifter Takes On His Most Indestructible Opponent Yet In Gotham City
Batman, Inc.
Batwing became prominent in the New 52 reboot of the DC Universe. He was first introduced right before that event in the fifth issue of Batman Incorporated, with the continuity carried over into the reboot. His story was expanded in an ongoing from Judd Winnick and Ben Oliver, which revealed Zavimbe's tragic past.
David Zavimbe was born and raised in the Democratic Republic of the Congo, with him and his brother Isaac being forced into the life of child soldiers when their parents died of AIDS. They both become prominent members of General Keita's army, killing dozens of innocents and combatants without question. Following his brother's murder, David eventually leaves the child soldier army and reforms himself as a police officer in Tinasha. Due to his valiance in trying to fight the corruption of the police force and the country in general, Batman chooses Zavimbe to be the Batman of Africa in Batman, Incorporated.
RELATED: Batman: The Road to the Court Owls Began at the Gates of Gotham
The Death of Batwing
Batwing's suit is notably different from Batman's own, with more armor and wings that allow him to fly. It also offers David regenerative abilities, making it arguably much more valuable than Batman's costume. This armored form actually made him closer to a character like Steel or Iron Man, with his face also being mostly visible. Zavimbe had martial arts training, which he showcased both in a flashback where he took down the warlord Blood Tiger and to help Batman investigate the Leviathan organization.
Zavimbe's allies on the police force are soon targeted for his investigations into the villain Massacre, which results in most of them being killed and David being stabbed in the neck. He would regain his strength and team up with fellow African superhero Thunder Fall to take on Massacre. It was later revealed, however, that the superhero group that Thunder Fall was once a part of had failed the country themselves. A deal that they made years ago allowed a dictator to run free while hundreds of child soldiers were slaughtered, eventually giving rise to Massacre.
Massacre was also revealed as the surviving brother of David, who had in fact not died years ago. David decided to begin using lethal force to both defend the country and end the reign of Massacre, but at an immense personal cost. This causes him to reconsider his position in Batman, Incorporated, and he eventually relinquishes the Batwing title. Luke Fox would take up the mantle not long afterward, and since then, David Zavimbe has yet to resurface. With Luke Fox recently becoming Batwing in the Batwoman TV show, it's unlikely that DC will ever bring back the man who originally used the moniker to fight for justice, leaving David Zavimbe in a list of now-obscure Batman-related characters.
KEEP READING: Batman: How Earth One Rewrote the Dark Knight's Early Days
Power Rangers Puts a POWERFUL Hero In Lord Zedd's Hands
Denial of responsibility!
Verve Times is an automatic aggregator of the all world's media. In each content, the hyperlink to the primary source is specified. All trademarks belong to their rightful owners, all materials to their authors. If you are the owner of the content and do not want us to publish your materials, please contact us by email –
[email protected]
. The content will be deleted within 24 hours.