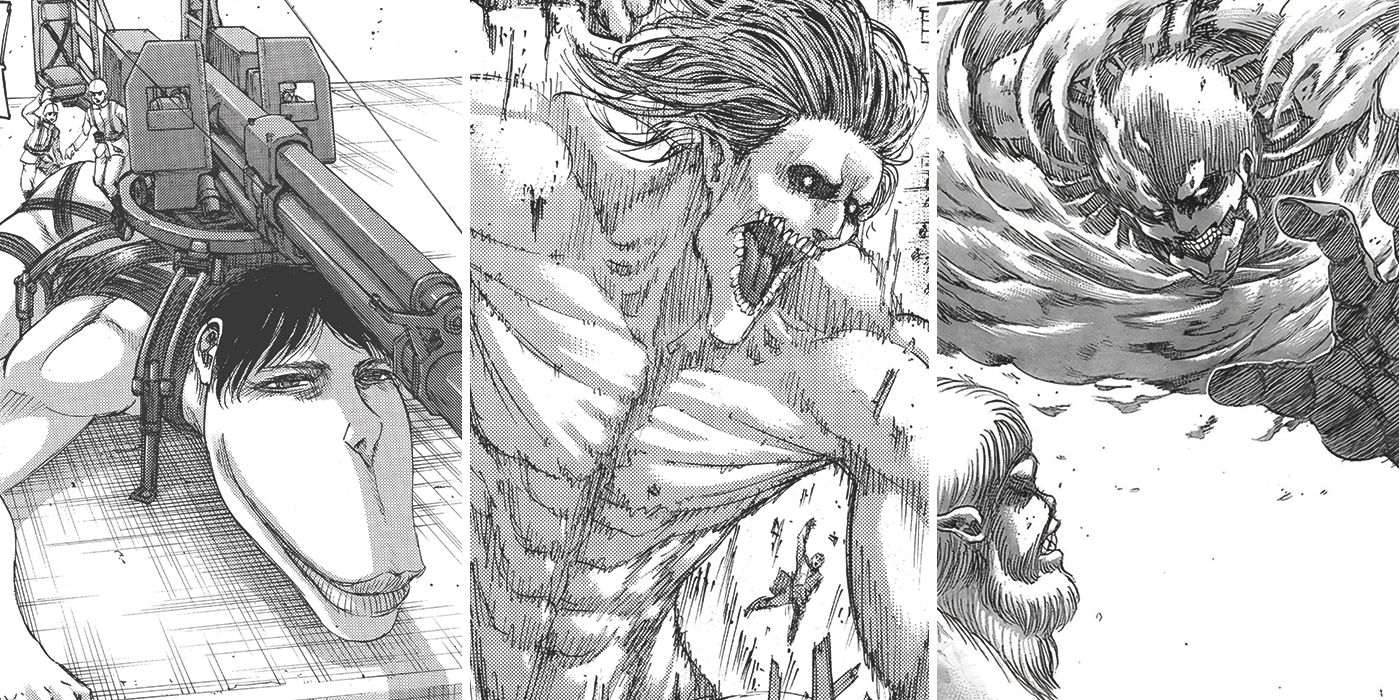 Attack On Titan: 10 Chapters That Are Better Than 124
Thaw, Chapter 124 of the Attack on Titan manga, depicts an array of emotional and suspenseful events. Some key moments involve Gabi Braun saving Kaya from a Titan, Kaya covering for Gabi after she's suspected to be from Marley by a solider, Armin realizing that Annie Leonhart is now free from her hardened state after the Founding Titan undid the hardening on the Armoured Titan, and Connie abducting Falco so he could feed him to his mother to make her human again.
RELATED: Attack On Titan: 5 Characters Eren Could Defeat (& 5 He Couldn't)
While undeniably a great chapter, the manga as a whole presents many more chapters which arguably have a far bigger impact.
10

Chapter 119 – "Two Brothers" Leaves Eren's Fate Uncertain
Zeke and Eren find themselves in the midst of chaos as they desperately try to reach each other to activate the full power of the Founding Titan. And while Eren attempts to fend off the Jaw Titan, Colt Grice reaches Zeke and tells him that his younger brother, Falco Grice, has ingested his spinal fluid and begs him not to use his scream. Sadly, this wasn't enough to sway Zeke's mind and he proceeds to turn every affected Eldian, including Falco, into pure Titans.
As the chapter nears its end, Eren manages to escape his battle with Reiner and runs towards his older brother, but an emotionally distressed Gabi shoots his head off, leaving Eren's fate in question.
9

Chapter 121 – "Memories Of The Future" Redeems Grisha Yeager
Chapter 121 essentially redeems Grisha Yeager from some of his seemingly self-made decisions. As the Yeager brothers travel through their father's memories, it is revealed that Eren is the one who manipulates his father into killing the Reiss family in order to steal the Founding Titan.
A devastated Grisha leaves the chapel in despair and asks Eren if he's satisfied now, but Eren ignores him and walks off. Grisha wants to know if Zeke is also among them, and once Zeke makes himself apparent, they both share a heart-wrenching moment where he apologizes for being a terrible father and begs him to stop Eren.
8

Chapter 122 – "From You, 2,000 Years Ago" Shows That Eren Gets His Way
This chapter follows Ymir's past and how she came to be the Founding Titan, allowing fans to understand for the first time how it all started. It is revealed that Ymir was a slave to Karl Fritz, an Eldian tribal leader, and fell inside a tree while attempting to hide from men who were hunting her for sport after she took the blame for an escaped pig. Inside the tree, she fell deep underwater and merged with an unknown creature, now understood to be an Hallucigenia, and transformed into a Titan.
RELATED: Attack On Titan: 10 Interesting Facts About Ymir Frtiz You Need To Know
Ymir then marries Karl Fritz and gives birth to three daughters, but later dies saving his life. Karl Fritz commands his daughters to eat Ymir's remains in order to gain the power of the Founding Titan. The chapter ends with Eren telling Ymir she is no longer a slave and doesn't need to obey Zeke's orders. So she instead sides with Eren, and the Rumbling begins.
7

Chapter 127 – "Night of The End" Makes Former Enemies Come Together
The Rumbling begins and, against all odds, the Survey Corps, Marleyan military, and Anti-Marleyan Volunteers join forces in order to stop Eren. Understandably, various members of this newly formed alliance found it difficult to trust one another, and many hard truths are revealed.
Whilst they all sit around a campfire together, Annie asks Misaka if she's willing to kill Eren if both she and Armin fail to reason with him, and Reiner tells Jean the shocking truth behind Marco's death. Although Reiner admits that he is plagued by his sins and wishes that he spoke to Marco before making his drastic decision, Jean goes into a rage and violently attacks him.
6

Chapter 129 – "Retrospective" Brings An Exchange Between Two Men From Opposite Sides
The plan to stop both Eren and the Rumbling was in full swing, and the gang attempts to steal a ship in order to take the Azumabitos flying boat to Odhia so it can be serviced and used in their battle. As the Armored and Female Titan fights to protect the Azumabitos while the Survey Corps fight the Yeagerists, many devastating sacrifices are made along the way.
One stand-out part of this chapter is the moment both Theo Magath and Keith Shadis sacrifice their lives to destroy a Marleyan cruiser so the others could escape. Before they die, Shadis comforts Magath as he reflects on his decisions, and they both introduce themselves to each other.
5

Chapter 131 – "The Rumbling" Shows The Devastating Effects Of Eren's Decision
The Rumbling proceeds to destroy humanity. Ramzi and Halil, two refugee children, try to escape alongside crowds of civilians. As the chapter continues, Eren remembers the moment he met Ramzi, where he looks at him in disdain and apologies. At this point, Eren understands what the future holds for Ramzi and how he cannot change it. Ramzi and Halil are then killed as a result of the Rumbling.
Later, Armin and Annie share an emotional conversation where she thanks him for visiting her whilst she was in her crystal and explains that she couldn't understand why he continued to do it, to which he responds that he was surprised she hadn't realized that he genuinely wanted to see her considering Hitch's teasing.
4

Chapter 132 – "The Wings Of Freedom" Loses A Beloved Character
Once the ship arrives in Odiha, the Azumabito engineers start repairing the flying boat and Annie decides to stay behind with both Gabi and Falco. However, before the rest can leave, Floch arrives and damages the flying boat's fuel tank, meaning they were now at risk of the Rumbling catching up to them. As the engineers desperately try to fix the damage, the Rumbling arrives and all hope is seemingly lost.
RELATED: Attack On Titan: 10 Tragic Deaths Only Manga Readers Know About
Hange Zoë however, decides to sacrifice her life to buy time for the others to escape and launches herself into the midst of the Rumbling. Her noble decision successfully helps the rest of the gang continue their mission.
3

Chapter 137 – "Titans" Allowes Levi To Finally Fulfil His Promise
When Armin enters the Paths, Zeke begins to discuss the history of life and how it came to be. He also explains that he could never understand Ymir's ultimate goal. He then asks Armin why he continues to fight for his species, which has caused so much destruction, to keep existing. As Armin protests his side, he then convinces Zeke to come back to the outside world and fight alongside them.
As Zeke partially emerges from one of the Founding Titan's spines, he calls out to Levi Ackerman, who swiftly beheads him, and the Rumbling stops. This also marks the moment Levi was finally able to fulfill his promise to Erwin Smith.
2

Chapter 138 – "A Long Dream" Leaves The Fate Of Humanity In The Hands Of The Ackermans
The Rumbling is over, but both the centipede that emerges from the Founding Titan and Eren Yeager survived the epic battle. The centipede then emits gas which turns every remaining Elidan, except for the Titan shifters and Ackermans, into pure Titans.
Once Levi realizes the danger, he tries to get Mikasa, who is suffering from intense headaches, on top of Falco's Titan and explains that they're the only ones left who can stop Eren. But Mikasa is left emotionally incapacitated and suddenly wakes from sleep where she is faced with Eren. After an emotional interaction, Eren asks Mikasa to throw out her scarf and forget him when he's dead, but once Mikasa comes back to reality, she concludes that she cannot forget Eren, wraps the scarf around her, and asks Levi and Falco to help her take Eren down. The chapter ends with an intimate kiss between both Mikasa and Eren before she beheads and kills him.
1

Chapter 139 – "Toward The Tree On That Hill" Wraps Up One Of The Best Stories Of All Time
The final chapter beautifully wraps up one of the most popular franchises of all time. The power of the Titans has been eliminated, and fans discovered the truth behind why Eren chose to wipe out 80% of humanity, plus his true feelings for Misaka were revealed. More so, Levi was able to give one final salute to his fallen comrades.
The manga then flashes forward three years on, allowing fans a brief insight on life for the gang after the war. The chapter ends with Mikasa sitting under the tree where Eren used to sleep while speaking to his grave. As she cries, a bird flies down and loops her scarf around her neck. She looks towards the bird and thanks Eren for wrapping the scarf around her once again, alluding to the idea that the bird is a reincarnation of him.
NEXT: Attack On Titan: 10 Ways The Manga Exceeded Expectations

Next
Attack On Titan: 5 Naruto Characters Mikasa Could Defeat (& 5 She Couldn't)

About The Author
Denial of responsibility!
Verve Times is an automatic aggregator of the all world's media. In each content, the hyperlink to the primary source is specified. All trademarks belong to their rightful owners, all materials to their authors. If you are the owner of the content and do not want us to publish your materials, please contact us by email –
[email protected]
. The content will be deleted within 24 hours.