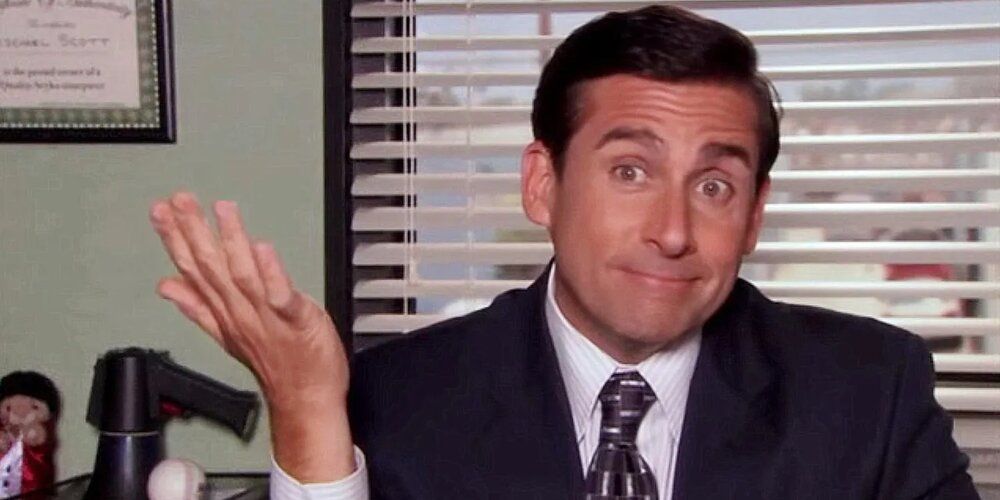 Actors Offered the Michael Scott Role Before Steve Carell
Finding the perfect chemistry in a cast is essential to creating a sitcom. Could anyone else have played Michael Scott as perfectly as Steve Carell?
In the sixteen years since its premiere on March 25th of 2005, the American adaptation of The Office has secured a place in American iconography. Now considered one of the most influential sitcoms of all time, many can't imagine the show any different than what they got. However, there are a lot of moving pieces behind putting together an ensemble comedy. Audiences got a peek into that process in Andy Green's book "The Office: The Untold Story of the Greatest Sitcom of the 2000s" and many were shocked by how many other actors nearly played everyone's favorite regional manager, Michael Scott.
At this point in his career, Steve Carell was certainly the most well-known original cast member on the show, as his stint in The Office came after his time as a correspondent on The Daily Show and performances in Anchorman and Bruce Almighty. While these performances certainly showcased Carell's acting prowess, producer Ben Silverman and casting director, Alison Jones, thought someone more recognizable may help the show's marketability. As far as we know, there were over twenty star-studded names considered for the lead role, many of whom were offered the role before Carell's consideration. Here are some of the most well-known ones.
RELATED: The Office: John Krasinski Refused to Let Jim Make a Huge Mistake
Philip Seymour Hoffman
In an alternate universe, Philip Seymour Hoffman's career could have taken a sharp right turn had he accepted the offer to play the "World's Best Boss." Prior to his consideration for the role, Hoffman had many comedic roles under his belt thanks to performances in films like Boogie Nights and The Big Lebowski. That being said, most of Hoffman's recognition came from his impeccable dramatic work in both theatre and films like The Talented Mr.Ripley, Magnolia and Flawless. 
Certainly a well-known performer, Hoffman had the choice to take his career in many different directions. With a Best Actor Tony Award and a Drama Desk Award, he had proven he had the chops to tackle complex characters with poise. Just weeks before the premiere of The Office, Hoffman won the Academy Award for Best Actor for his performance as Truman Capote. Ultimately, Hoffman most likely saw his future as a titular dramatic star and thought choosing a long-term commitment to a show that might fail was not a smart play. Looking back, if Hoffman had taken the role, audiences would have lost out on his monumental performances in films like Doubt and Before the Devil Knows You're Dead.
RELATED: Why Paul Thomas Anderson's New Film Is Called Licorice Pizza
Paul Giamatti
In a separate timeline prior to his turn as a high-profile businessman in Showtime's Billions, Paul Giamatti was also considered for Carell's future role. Unlike Hoffman, Giamatti had experience on television early in his career, but less critical acclaim in the years leading up to The Office's conception.  From the perspective of the modern entertainment industry, it seems that a potentially long-running sitcom wouldn't have been an out-of-the-box choice for the Sideways actor.
However, Giamatti had a career in mind and TV wasn't the way to get there. His experience on television at that point had primarily been featured co-starring roles and most of his recognition came from his film work. Back in the early '00s, TV still had not made the leap to what it is today and wasn't really drawing movie star caliber. When Giamatti chose to turn to television in 2008 it was playing John Adams on HBO, which still had more notoriety than broadcast television. In terms of what Giamatti would have brought to the character, Silverman and Jones believed that he would have delivered a performance closer to Ricky Gervais' original Michael Scott. At the end of the day, though, the creators were hoping to move away from that tone and create a more relatable leading role.
Bob Odenkirk
The actor who was closest to claiming "That's what she said!" as his titular catchphrase, is everyone's favorite sleazy lawyer, Bob Odenkirk. When choosing between the two powerhouse comics, casting director Alison Jones said the decision came down to tone. In his readings, Odenkirk gave a more "cerebral performance," whereas Carell leaned into a "sweet and simple… midwestern accessible, loveable comic energy." Like the other actors mentioned, if Odenkirk had been cast in the role someone else would have taken his career-defining performance of Saul Goodman.
RELATED: The Office Theory Explains Why Andy Has Two Sets of Parents: Resentment
What Came To Be and Honorable Mentions
Despite a contentious first season, nearly being canceled after six episodes, The Office now stands tall as many people's favorite comedy of all time. While it is is fun to look back on what could have been, Jones and Green certainly chose correctly when curating this case. Regardless, here are a few honorable mentions of actors who who were considered for the role of Michael Scott:
Alan Tudyk, Adam Scott, Nick Offerman, Paul Rudd, and Rainn Wilson.
KEEP READING: The Office Shares a Universe With Parks & Rec and… Dexter, Theory Explained
Marvel Changed a Key Eternals Action Sequence Because of Dune
About The Author
Denial of responsibility!
Verve Times is an automatic aggregator of the all world's media. In each content, the hyperlink to the primary source is specified. All trademarks belong to their rightful owners, all materials to their authors. If you are the owner of the content and do not want us to publish your materials, please contact us by email –
[email protected]
. The content will be deleted within 24 hours.