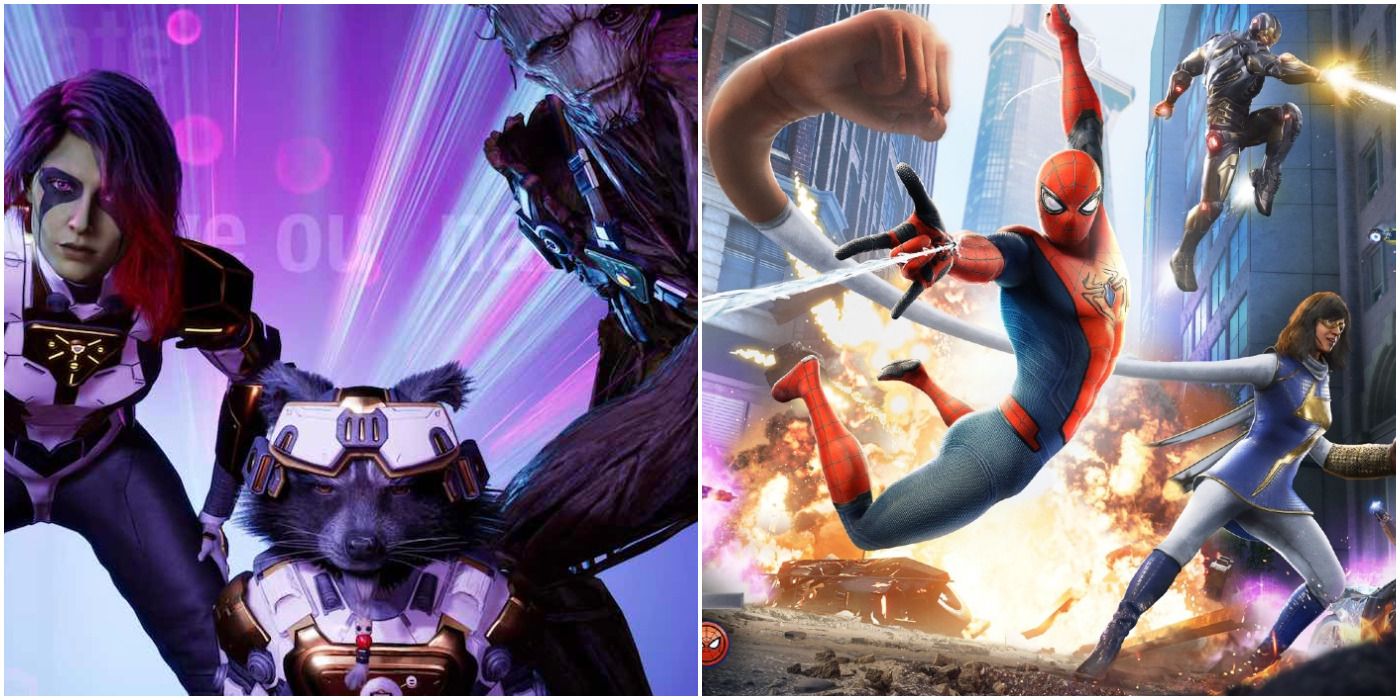 5 Ways The Guardians Of The Galaxy Game Is Better Than Avengers (& 5 It Isn't)
Although Marvel's Guardians of the Galaxy has been a massive success in terms of fan reception, it has not been as successful in sales. The biggest issue the game faced before release was the negative reception to Square-Enix's other superhero game, Marvel's Avengers. With players largely unhappy with Marvel's Avengers, potential buyers were more cautious when Marvel's Guardians of the Galaxy was released.
RELATED: 10 Strongest Villains The Avengers Beat In The Comics
But is Marvel's Avengers really that terrible? As great as Marvel's Guardians of the Galaxy is, there are some places where the title falls short that Marvel's Avengers excels at. And as Spider-Man gets ready to join up with Crystal Dynamics' Avengers, it's probably worth giving Marvel's Avengers a second look.
10

Isn't Better: Guardians Has Limited Customization
Marvel's Guardians of the Galaxy doesn't go out of its way to offer a ton of customization for Peter Quill. It's possible to find a bunch of different costumes for every character around the different maps, but other than that, there's not a lot available. Playing missions levels up characters and allows them to pick up new skills. Marvel's Avengers offers tons more customization, such as unique gear that changes how a character plays or special perks that make it easier for the player to fight difficult enemies.
9

Is Better: Guardians Has A Vastly Better Storyline
Marvel's Avengers is unfortunately hampered by being a game where the story continues after the credits roll. A.I.M. isn't defeated at the end of Marvel's Avengers, and even beating Monica doesn't put a stop to A.I.M. for good. The Guardians of the Galaxy game benefits from taking the team on a ride where the players can get invested in the storyline, enjoy a 16-hour story, and move on. It's essentially Uncharted but with a team of misfits as the leads.
8

Isn't Better: Guardians' Combat System Isn't As Good As Avengers
Make no mistake, Marvel's Avengers has some of the best combat of the last year. It might be difficult to believe, but every character feels unique to play. As the characters level up, more options are unlocked that feel like logical growth for the characters. Iron Man can swap between rockets, lasers, and repulsors. Thor can summon giant winds and lightning blasts, while Hulk can literally tear the environment apart and toss it at people. Though Guardians of the Galaxy has great combat, it doesn't come anywhere close to what's offered by Marvel's Avengers.
7

Is Better: Guardians Is Not Being Monetized For Everything
Marvel's Avengers made a smart move by deciding they wouldn't charge for new characters or the story modes included with each new character. This gives players the ability to return to the game for free and maybe purchase some additional extras.
RELATED: Marvel Characters Galactus Has Never Beaten In A Fight
However, this also means everything from different skins to different takedowns are all sold for a price. Recently most of them went on sale, but fans still have to pay for things like costumes based on the Marvel Cinematic Universe.
6

Isn't Better: Has A Limited Amount Of Characters To Play As
Guardians of the Galaxy is inherently limited when it comes to adding to their roster. They have the characters people know from the films, and a handful of obscure former members. There's not that much room for expansion, and most fans aren't going to recognize some of the deep cuts of the game. In contrast, the Avengers roster is one of the most recognizable in comics at the moment, giving the game plenty of options for adding new characters.
5

Is Better: It's A Smoother, Bug-Free Experience
Although an additional year of development time has made Marvel's Avengers a much better game, it was one of the buggiest A.A.A. titles of 2020 at launch. The game was constantly crashing for P.C. players, and even console players weren't having a great time. The issues plaguing Marvel's Avengers suggest that it was forced out early by Square-Enix in an effort to maximize profits. Meanwhile, Marvel's Guardians of the Galaxy stayed off the radar until Square-Enix determined it was ready for release.
4

Isn't Better: Players Can Only Control Star-Lord
In Guardians of the Galaxy, players are only able to control Star-Lord. This is meant to simplify things, even though the player is free to direct the other members of the Guardians to attack different opponents. Unfortunately, this isn't the same as getting to control one of a player's favorite members of the Guardians. Marvel's Avengers allows players to take on any character that's in the game, each of which plays differently than the rest.
3

Is Better: Guardians Has A Superior Soundtrack
Marvel's Guardians of the Galaxy has an amazing soundtrack with tons of awesome 80's music. The music fits with the storytelling of the game perfectly and enhances the experience of playing. Marvel's Avengers has barely any music at all, and what's there is generic.
RELATED: 10 Weirdest Matchups From Marvel's Acts Of Vengeance Event
The soundtrack doesn't stand out, and even the Avengers theme isn't nearly as memorable as the actual Avengers theme from the films. Players could mute the sound in Marvel's Avengers with no significant loss, but the emotional impact from some scenes in Marvel's Guardians would be ruined without music.
2

Isn't Better: Can't Add On To The Story
The cool thing about Marvel's Avengers is that its story is never-ending. Though there are some spots where the Guardians approach is better, it's hard not to be left wanting more once players put the game down. With Avengers, there's more story being added, with three new campaigns added to the game since launch. Each campaign has also added additional characters, expanding the roster out to ten characters now as they add the fan-favorite Spider-Man for PlayStation players.
1

Is Better: Explores A Part Of Marvel People Don't Usually See
Fans usually think of the Marvel Universe as the Avengers and the X-Men. Outside of those two properties, there's not as much left when it comes to wider fiction. However, this game decided to go cosmic, introducing elements like the Nova Corps and the Universal Church of Truth. Meanwhile, Marvel's Avengers didn't even feel like it tried to include iconic locations from Marvel Comics. Disappointingly, it was primarily S.H.I.E.L.D.-related settings with no fantastical Marvel locations to explore.
NEXT: Marvel: 10 Strong Avengers Who Started Out Weak

Next
10 Best Retro Games You Can Still Play

About The Author
Denial of responsibility!
Verve Times is an automatic aggregator of the all world's media. In each content, the hyperlink to the primary source is specified. All trademarks belong to their rightful owners, all materials to their authors. If you are the owner of the content and do not want us to publish your materials, please contact us by email –
admin@vervetimes.com
. The content will be deleted within 24 hours.