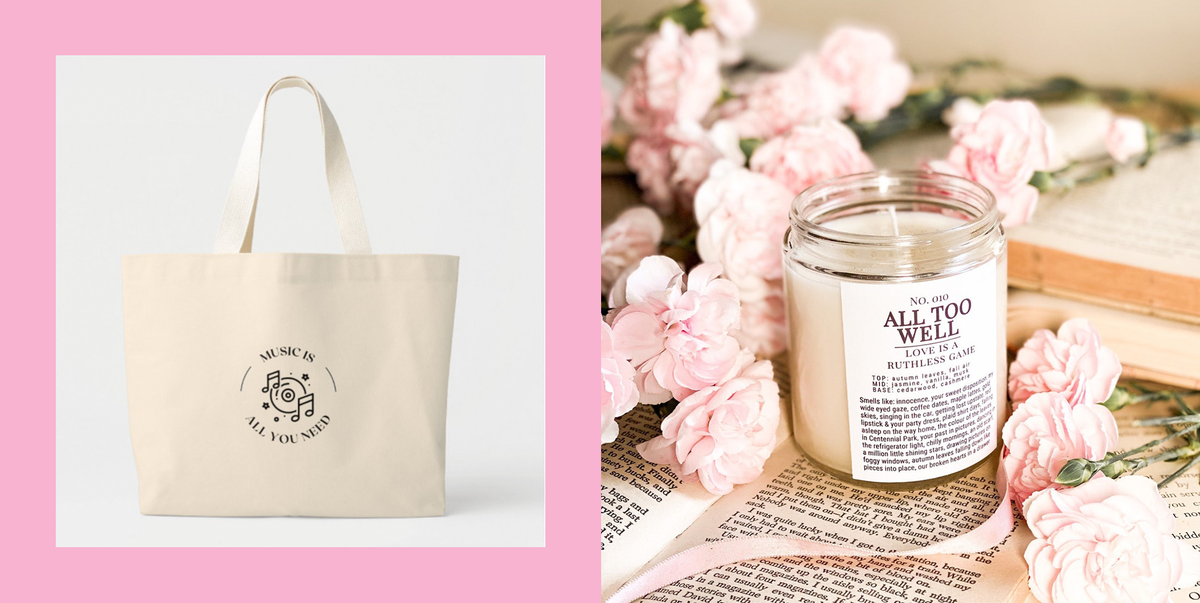 40 Best Gifts for Music Lovers 2022
Honestly, some people can be hard to shop for. Some people are very particular, some are minimalists, and some just buy themselves whatever they want, which is a great vibe, but makes gift-giving so hard for the rest of us! One tried-and-true method is to think about their interests and start your shopping there. For instance, if they are a wine lover, obsessed with cheese, or the biggest Marvel fan you've ever met, boom, you've got your gift ideas right there! And if they're a music lover, we've got good news: there are tonsssss of unique gift ideas we've gathered here for ya.
If they can recite Taylor Swift's discography backwards and forwards, absolutely shred on guitar, and kill it at karaoke, they'll love these gifts. Maybe you're shopping for your friend who is in charge of the party playlists at every function, or the one who can basically tell you the entire history of their favorite music genres. Whether you're looking for the perfect birthday gift, housewarming present, Mother's Day gift or Father's Day gift (who says parents can't rock out?), we've got you covered with these thoughtful gift ideas for music lovers.
Advertisement – Continue Reading Below
1
This mixtape card game
Mixtape Card Game
You can actually create the soundtrack of your life with this game. In each round, players draw a scenario card from the deck, and everyone gets to stream a song they feel best fits the scenario. Example cards include "Play the song you jammed to on the day you got your driver's license" and "Righteously quitting a job, throwing a cheeseburger at your shitty boss." The dream game night for any music lover.
2
This bluetooth water bottle speaker
Bluetooth Speaker & Water Bottle
Picnic szn is approaching, so they'll definitely want to have this bluetooth speaker that's also a water bottle on hand.
3
This musical history book
'Music Is History' by Questlove
If your music-loving person also loves learning about history, they won't be able to put this book down. It explores the last 50 years in American history through the lenses of music and pop culture, written by someone with plenty of personal experience and expertise when it comes to music.
4
These recycled record bottle openers
Recycled Record Bottle Opener
Everyone needs a trusty bottle opener. And any music lover is sure to enjoy these ones that are handmade from recycled records.
5
This karaoke mic
Wireless Bluetooth Karaoke Microphone
Who needs a karaoke bar? With this bluetooth microphone, you can pull up some lyric videos and have karaoke night with your friends at home. Because no one really wants to listen to drunk strangers belt out "Don't Stop Believing," tbh.
6
This musical mug
'It's a Good Day to Make Music' Mug
The musicians in your life who need a cup of coffee or tea to get their creative juices flowing are sure to love this mug.
7
This jazz-inspired print
'Miles, Baby' Framed Art Print
Any jazz lover would be thrilled to hang this Miles Davis art in their house. It's created by artist XPayne and comes in a variety of sizes.
8
This Lauryn Hill tee
Lauryn Hill Shirt
Let them show their love for Lauryn Hill with this shirt. It comes in a ton of different colors, so you can choose the one your recipient likes best.
9
These earbuds perfect for working out
Wireless Earbuds
If they like to listen to music while they work out, they need a pair of earbuds that'll stay put. These have a suuuuuper long battery life (we're talking 54 hours!) and they're water-resistant.
10
This handy DIY guitar pick tool
Make Your Own Guitar Pick Punch
They can give those used Starbucks gift cards or expired credit cards new life as a guitar pick, thanks to this nifty little tool.
11
this fun card game
Music Card Game
Think Apples to Apples but music edition! They'll be playing this all the time (and winning every game) when ya give it to them.
12
this acrylic wall art
Personalized Acrylic Glass
If you know your music lover's favorite song, custom order a cool piece of acrylic wall art like this. Created to imitate the look of a Spotify track, this 8 in. x 10 in. piece of art would look super cool on a shelf in their room.
13
this gorge candle
All Too Well Candle
The Swiftie in your life can never have enough ~branded~ products. This candle was inspired by the singer's song "All Too Well" and it smells divine with notes of cashmere, jasmine, and vanilla orchid. The company has a bunch of other scents that match her other hits, too!
14
this deck of cards
Music Playing Cards
Get your friend this card deck so they can play a game while they listen to music. Instead of the usual king and queen faces, this artist-themed deck of cards features famous pop, rock, country, soul, blues, and r&b singers.
15
this fab t-shirt
Aaliyah Tee
Aaliyah fans will be freaking when they open up their gift and see this chic tee inside. And if you wanna really deck them out in gear with the popstar on it, you've gotta check the entire AALIYAH x REVOLVE collection out RN.
16
these thoughtful guitar picks
Birth Month Guitar Picks
Dustin and Stephanie Headrick
If they play guitar, they'll go crazy over these bad boys. Crafted from gemstones, these novelty guitar picks would make a great gift, especially if you choose one that corresponds to their birth month. They're truly works of art!
17
these airpods
New Apple AirPods Pro
Getting them a pair of AirPods will make listening to music ~on-the-go~ sooo much easier. They're lightweight and have top-notch sound quality.
18
this adorable journal
Music Note Journal
If you've got a songwriter in your hands, they'll adore this chic journal where they can jot down all their music and lyric ideas.
19
this handy headphone holder
Round Headphone Stand
Their headphones need a home, BTW! Grab them this sleek stand that'll keep 'em in tip-top shape.
20
this hi-tech showerhead
Showerhead with Speaker
They won't ever not be jamming out in the shower once you get them this uber-cool showerhead that comes with a built-in Bluetooth speaker.
21
this dainty bracelet
Music Note Bracelet
This adorable bracelet will serve as a fashionable reminder about their love for music.
22
this portable record player
Executive Vintage Bluetooth 3-Speed Portable Suitcase Turntable with USB
Every music lover could use an updated version of the classic turntable for their records. This portable suitcase player has built-in Bluetooth compatibility and is USB-compatible.
23
a classic band tee
Classic Fleetwood Mac Rumours Tee
If they're a fan of the classics, it doesn't get any more classic than a Fleetwood Mac "Rumours" t-shirt.
24
this useful tote
'music is all you need' large tote bag
What's so great about a tote bag is that it can fit H-E-L-L-A stuff, but it can also be used for any occasion. Treat them to this gem that has the sweetest musical emblem on it.
25
this card game
University of Dope – The Anatomy of R&B
Mix a boozy card game with R&B trivia and they're in for a fun time!
26
these record coasters
Set of 6 Colorful Retro Vinyl Record Disk Coasters
If your friend keeps stacks and stacks of vinyl records on display at their apartment, these adorable little coasters would def be on-brand for them.
27
this portable speaker
Beats Pill+ Portable Bluetooth Speaker
Wait, your friend doesn't have a portable speaker? Hook them up with this sleek little device. It might be small, but don't underestimate its power! The volume is next-level, and it has a whopping 12 hours of listening time.
28
this beyoncé-themed crew
Hand Embroidered Sweatshirt , Beyonce
An embroidered Yoncé serving queen vibes on a sweatshirt…does it get better than this??
29
This cute poster
SOUR Poster
If their #1 on Spotify Wrapped was "Driver's License," they'll love this minimalist Olivia Rodrigo album poster.
30
This retro Airpods case
Airpods Case
They already have a pair of AirPods, so get them a fun case to store them in, like this old school iPod-looking one.
31
this soundwave wall art
Soundwave Art Paper Anniversary Gifts Favorite Song
To the average person, this might just look like another abstract painting. But the music lover in your life will know this cool piece of art is actually the soundwave of their favorite song. To make the gift extra special, you can personalize everything from the size and color to the song and the words printed on it.
32
this justin bieber-themed pillow
Dreamkingdom Justin Bieber Decorative Heart Cushion
The Belieber in your life (I know you have one) 100 percent wants this heart-shaped Justin pillow. Promise.
33
this kitchenware set
Bamboo Guitar Neck Shaped Utensil Set
They'll suddenly looove cooking when they use these gems to whip up their meals! This set is so cute because it's subtle yet bold.
34
These vinyl record roses
Vinyl Records Roses
Yeah, you could get them a nice bouquet of flowers, or you could get them these handmade roses literally made from vinyl records. They'll last a lot longer, and they'll be the perfect addition to their record corner.
35
these wireless headphones
Exodus Over-Ear Wireless Headphone
These memory foam wireless headphones are so comfortable you could sleep with them on. And with a 30-hour battery life, you actually can fall asleep while wearing them without having to worry about them dying.
36
this vinyl record cleaner
AC1021A Groove Goo Vinyl Record Cleaner
Every record collector needs a jar of goo for cleaning vinyl…or anything else fragile that needs a good dusting.
37
Music Sticker
They can decorate their guitar case, car window, or laptop with some new stickers. Get them a funny little gift like this that'll speak to their soul. Because who wouldn't wanna be a groupie?!
38
this coffee table book
Musicals: The Definitive Illustrated Story
For the friend who prefers musicals over radio tracks, this book deserves a spot right in the middle of their coffee table. Packed with behind-the-scenes facts about all the biggest musicals, this book is almost as good as getting tickets to a show.
39
this funny cheese board
Turntable Cheese Board
At first glance, this just looks like your typical turntable. But look a little closer and you'll find that the tray is actually a cheese platter and the tone-arm is a cheese slicer. Genius.
40
these headphone sunglasses
Frames Tenor 55mm Audio Sunglasses
These sunglasses have actual speakers built-in so your friend, or whoever the lucky gift recipient is, can easily and discreetly listen to whatever they want. And when they need to switch to make a phone call, these glasses also have a microphone with a Bluetooth connection.
This content is created and maintained by a third party, and imported onto this page to help users provide their email addresses. You may be able to find more information about this and similar content at piano.io
Advertisement – Continue Reading Below
Denial of responsibility!
Verve Times is an automatic aggregator of the all world's media. In each content, the hyperlink to the primary source is specified. All trademarks belong to their rightful owners, all materials to their authors. If you are the owner of the content and do not want us to publish your materials, please contact us by email –
[email protected]
. The content will be deleted within 24 hours.