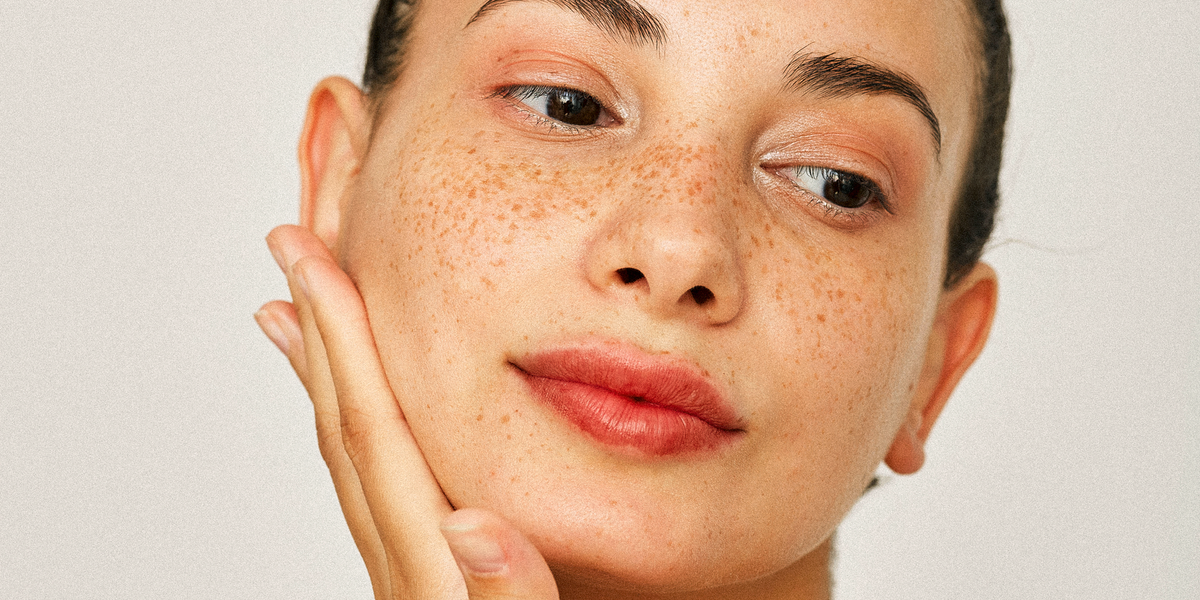 15 Best Moisturizers for Oily and Acne-Prone Skin of 2022
K, maybe you've heard this a million times, but it bears repeating: You can't skip out on moisturizer if you've got oily or acne-prone skin. Sorry, not sorry, but if you want to keep your oily skin at bay, the secret is to keep it hydrated with a great moisturizer.
And before you're all like, huh, contradictory much?! A few derms and I broke down everything you need to know about the best moisturizers for acne-prone and oily skin types, why they're essential, aaaand even sifted through the hundreds of creams on the market right now to find your match. If you've tried everything to get rid of your oily skin to no avail, it's time to pop one of these 15 face creams for acne-prone and oily skin in your bag ASAP.
Meet the experts
Mona Gohara, MD, is a board-certified dermatologist in Hamden, Connecticut, Vice President of the Women's Dermatologic Society, and Associate Clinical Professor at Yale. Her areas of expertise include medical and surgical dermatology and skin of color.
Heidi Waldorf, MD, is a board-certified dermatologist at Waldorf Dermatology Aesthetics in New York who specializes in cosmetic dermatology. Waldorf previously spoke to Cosmo about how to get rid of oily skin.
Anar Mikailov, MD, is a board-certified dermatologist at Lahey Hospital and Medical Center in Massachusets, and founder of KP Away. Mikailov previously spoke to Cosmo about the best face moisturizers for all skin types.
And if you're just here for the goods, and don't want alllll the ~great knowledge~ below (which, whomp whomp), here's a little sneak peek of the content ahead:
Our top picks for the best moisturizers for acne-prone and oily skin in 2022:
Does acne-prone skin need moisturizer?
"Moisturizing is important to keep the skin's barrier intact," Waldorf has told Cosmo. It might feel a little counterintuitive to load up on heavy creams and lotions when you've got hella shine on your face, but skipping moisturizer can actually make your face produce more oil (and that definitely isn't the goal, right?).
Oily skin and acne typically tend to go hand in hand, considering too much oil production on your face contributes to blackheads, clogged pores, and all those ~lovely~ breakouts. So when looking for a moisturizer for your skin, it could be beneficial to purchase products that target and address both of these skin concerns.
In addition to regular cleansing and treating, you'll also want to invest in a lightweight—yet super hydrating—moisturizer to keep excess oil, and therefore acne, at bay. "Use a light lotion instead of a heavier cream," says Gohara. Lotions are more-so water-based, whereas creams are more-so oil-based, and oil, of course, is something you'll want to avoid, she explains.
How to choose the best moisturizer for acne-prone and oily skin:

Determine your skin type
Listen, I get it, you're here because you have oily skin—a no-brainer, right? But there's more to it than just having oily skin—in this case, I'm referencing your skin's sensitivity and other skin concerns like acne. Your general skin type and pre-existing skin concerns are the best indicators for what type of moisturizer you should use, Mikailov has explained to Cosmo, adding that "as the ingredient list grows, so does the likelihood of irritation or allergic reaction." Leading us to need to…
Examine the ingredients
Once you choose your moisturizer's consistency, those with oily skin should look for formulas with lightweight hydrators like hyaluronic acid or glycerin, Waldorf explained. If you have sensitive skin and legit breakout at the thought of trying new products and ingredients, stick to "alcohol-, fragrance-, and oil-free products," says Gohara, adding that you should also keep an eye out for products that are "non-comedogenic," AKA a ~fancy~ way of saying the ingredients won't clog your pores.
Develop a skincare routine
And finally, if you're looking to keep your oily skin in check, in addition to popping one of these moisturizers for oily and acne-prone skin in your cart, you should def develop a skincare routine.
But before you do, understand that I don't suggest that you purchase a million unnecessary products, in fact, adding too many products will increase your chances of looking, well, oily. Start with a great oil-free face wash, one of these moisturizers below, and a sunscreen for oily skin (yes, non-greasy sunscreens do indeed exist). See? Easy peasy.
The best moisturizers for acne-prone and oily skin
Now for the fun part, and what you've all been waiting for: The 15 best moisturizers for acne-prone and oily skin on the market. Buh-byeee oil and acne, won't miss ya!
1
Best Overall Moisturizer for Oily, Acne-Prone Skin
Origins Clear Improvement Pore Clearing Moisturizer
This clarifying moisturizer kills two birds zits with one stone. The formula is spiked with salicylic acid (a gentle exfoliator that unclogs your pores) and bamboo charcoal (a micro-fine powder with antibacterial and antifungal properties) to hydrate and treat your skin simultaneously.
2
Best moisturizer for Oily, acne-prone skin that prevents breakouts
Tula Skincare Breakout Star Acne Moisturizer
Why does it seem like every time I have somewhere v important to be, I wake up with a few little pesky pimples the morning of? Like, k, thanks for always choosing such great timing, skin! So because I was ~over it~, I found a product that helped prevent unannounced breakouts. Enter: The Tula Skincare Breakout Star Acne Moisturizer. With 2 percent salicylic acid, a whole slew of nourishing probiotics, and soothing aloe, this moisturizer is a straight-up game changer.
3
Best Lightweight Moisturizer for Oily, Acne-Prone Skin
Tatcha The Water Cream Oil-Free Pore Minimizing Moisturizer
This lightweight moisturizer for oily and acne-prone skin is loaded with a super-impressive cocktail of ingredients, including Japanese wild rose (which is said to improve the look of pores), and Japanese leopard lily (which reduces oil and calms problem skin). Translation: Your skin is in good hands with this one.
4
Best Gel Moisturizer for Oily, Acne-Prone Skin
Farmacy Daily Greens Oil-Free Gel Moisturizer
Feel like creamy formulas are too thick for your oily skin? This gel moisturizer from Farmacy is a lightweight alternative you'll actually love. And with brightening and hydrating ingredients like hyaluronic acid and papaya extract, it's a killer combo for your dark spots andddd acne scars.
5
Best Drugstore Moisturizer for Oily, Acne-Prone Skin
Cetaphil Pro Oil Absorbing Moisturizer
A solid moisturizer doesn't need to cost your entire paycheck, as evidenced by this drugstore skincare pick from Cetaphil. Bonus: It's formulated with SPF 30, so there's no need to layer your sunscreen on top (though, like, it's always a super smart idea).
6
Best SPF moisturizer for oily, acne-prone skin
Supergoop! Mineral Mattescreen Sunscreen SPF 40 PA+++
But if you do want sunscreen to layer on top (bc smart), unlike those goopy sunscreens that make your oily skin even oilier, this SPF moisturizer offers lightweight sun protection that won't clog your pores. The mineral sunscreen formula also has a matte finish to keep your oily face at bay throughout the day.
7
Best Moisturizer for Oily, Acne-Prone Skin and Clogged Pores
Shani Darden Daily Oil-Free Moisturizer
Smooth this oil-free moisturizer over clean skin and you'll notice two things: (1) It sinks into your skin super fast, and (2) It leaves behind a practically weightless texture. That's thanks to the lightweight ingredients in the formula, like hyaluronic acid (to lock in hydration), hydrolyzed collagen (to plump), and red algae extract (to soften).
8
Best Moisturizer for Acne-Prone, Oily Skin and Dark Spots
Rosen Skincare Moonlight Moisturizer
If you're looking to treat your oily skin and dark spots simultaneously, you can't go wrong with this daily moisturizer. The formula's licorice root extract and niacinamide come together to help lighten dark spots and marks, while the shea butter works to hydrate and smooth.
9
Best Fragrance-Free Moisturizer for Acne-Prone, Oily Skin
EltaMD AM Therapy Facial Moisturizer
I'm a fan of keeping my skincare routine super simple—especially when my face is lookin' extra oily and broken out—which is why I love this daily moisturizer so much. Instead of using fragrances or pore-clogging ingredients, this bb is loaded with soothing willow bark, brightening niacinamide, and hyaluronic acid. TL;DR: There's no need to worry about irritation with this one.
10
Best Moisturizer for Acne-Prone, Oily Combination Skin
Nola Skinsentials Hyaluronic H2O Créme
If your skin is part oily, part dry, and part whatever the F it wants to be that day, you'll love this hyaluronic acid moisturizer. Not only does it work to strengthen your moisture barrier, but it also locks in hydration every time you use it. Psst: The formula's also got pomegranate and vitamin C to help brighten your skin over time.
11
Best Affordable Moisturizer for Acne-Prone, A
The Ordinary Natural Moisturizing Factors + HA
Don't be fooled by the fact that this oily skin moisturizer is less than $10—the formula is actually stacked with glycerin, hyaluronic acid, and amino acids to help hydrate your skin without weighing it down. Don't just take my word for it though—peep the hundreds of five-star reviews, and you'll get the hype.
12
Best Nighttime Moisturizer for Acne-Prone, Oily Skin
CeraVe Facial Moisturizing Lotion
Prepare to slather this lightweight moisturizer on every night (seriously, you'll love it that much). The creamy formula is oil-free, non-comedogenic, and fragrance-free, so it's no wonder why derms recommend it.
13
Best Salicylic Acid Moisturizer for Acne-Prone, Oily Skin
Peter Thomas Roth Acne-Clear Oil-Free Matte Moisturizer
It's no secret that acne-fighting products can leave your skin out of whack. That's where this oil-free moisturizer comes into play—it's formulated with salicylic acid to treat breakouts and excess oil, along with ultra-hydrating hyaluronic acid and soothing aloe vera.
14
Best Moisturizer for Oily, Acne-Prone, Irritated Skin
Cosrx Oil Free Ultra Moisturizing Lotion
You know those moisturizers that just sit on your skin? Yeah, you won't get that with this oil-free formula—it's lightweight but super hydrating, and it absorbs into your skin pretty much immediately.
15
Best Clean Moisturizer for Oily Skin
Tata Harper Clarifying Moisturizer
This clean formula from Tata Harper calls on natural beta-hydroxy acids to gently exfoliate your skin, zap zits, and minimize the appearance of pores. Trust that your oily skin will love this moisturizer.
This content is created and maintained by a third party, and imported onto this page to help users provide their email addresses. You may be able to find more information about this and similar content at piano.io
Denial of responsibility!
Verve Times is an automatic aggregator of the all world's media. In each content, the hyperlink to the primary source is specified. All trademarks belong to their rightful owners, all materials to their authors. If you are the owner of the content and do not want us to publish your materials, please contact us by email –
[email protected]
. The content will be deleted within 24 hours.