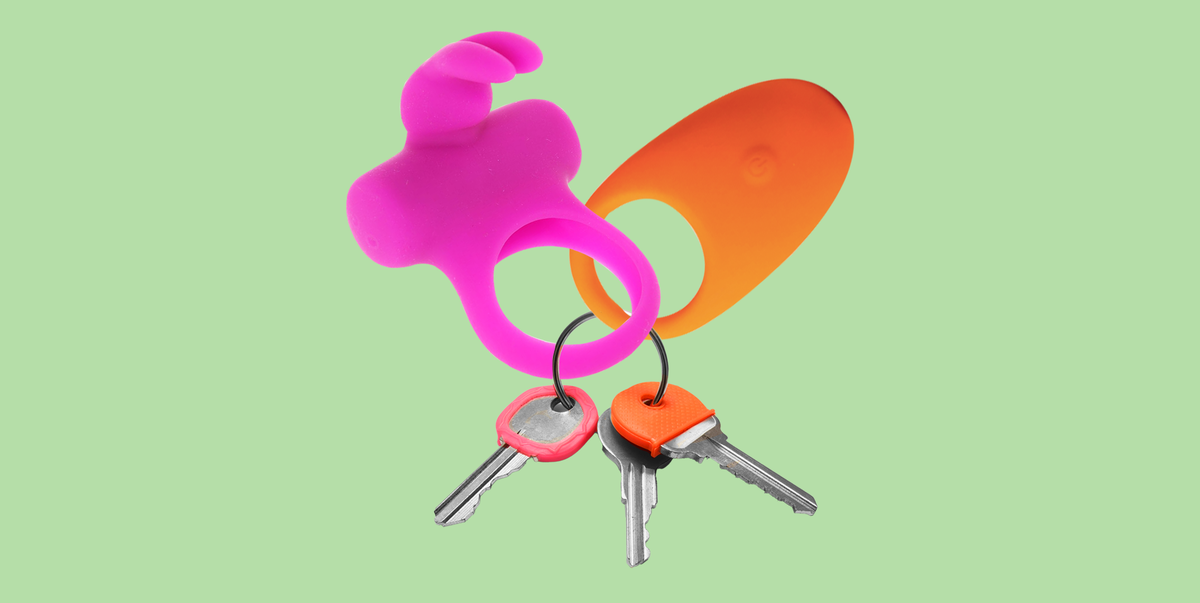 13 Best Vibrating Cock Rings 2022
Chances are you're familiar with the life- (or, at least sex life-) changing power of cock rings—but did you know that you can get penis rings that vibrate? Yep, vibin' c-rings exist, and the best vibrating cock rings can help the wearer get longer, stronger erections…as well as magnifique blended orgasms during penetrative sex, since a cock ring's vibration can also provide toe-curling clitoral and anal stimulation. What's not to love??
Penis rings serve multiple functions that work to give your sex life some love, both for people with penises and their partners. As Babeland brand manager and sex educator Lisa Finn explains, cock rings are primarily designed to trap blood in the penis shaft and head, which sounds painful but actually feels ahh-mazing. "This restricted blood flow can help maintain a stronger erection, as well as make the wearer's shaft and tip more sensitive to touch," she says. And when you have a cock ring with an attached vibrator, you get extra sensation for the wearer *and* their partner, regardless of genitals. Win-win! Here are a few of our faves, ICYWW:
Our top picks for vibrating cock rings in 2022:
Now on to the good stuff! Ahead, all the best penis ring vibrators you can buy right now, including high-tech remote- and app-controlled options, as well as budget picks that won't set you back a ton of cash.
Advertisement – Continue Reading Below
best overall penis ring
TOR 2
flexible enough to fit many sizes
Fully rechargeable and waterproof, the TOR 2 can be worn with the vibrator on top of the shaft or below, so it'll keep ya feeling good no matter the position. It's made with silky-smooth silicone that's flexible enough to accommodate a variety of sizes, and you'll love experimenting with the six vibe settings.
THE REVIEWS: "It's just perfect," one tester says. "Me and my girlfriend were amazed… [and] it fits great, without any discomfort. We are new to toys and Tor was an awesome purchase. Great quality from packaging to product. Definitely recommend it!
best double penis ring
Bed Ringer Double Cock Ring
features separate rings for the penis and balls
not a great choice for the well-endowed
This stretchy, textured double cock ring is equipped with 12 powerful vibration functions, which boost both clitoral *and* perineal sensation during partnered sex (!!). The smaller ring stretches from 1.25 to 2.25 inches, while the larger ring (which can be worn over the shaft and balls) can stretch from 2 to 3.5 inches.
THE REVIEWS: According to one tester, "I got this for my GF since she recently discovered she enjoys using a vibrator while we have sex and she was blown away! Highly recommend this for anyone wanting to add a new pleasurable experience to their love making! Can't wait to use it again!!!"
best budget penis ring
Juke Ring
amazingly effective for the price
may not stretch enough for some
For only $25, this vibin' toy from Romp features six powerful vibration modes and four patterns to complement those different modes. It's 100 percent waterproof, so it's great for shower play, and it's made with stretchy silicone, so it can accommodate a variety of sizes.
THE REVIEWS: "Amazing item!" one reviewer writes. "Has a ton of power and very easy to charge. You can easily change modes and speeds while in the moment. Very well constructed and very stretchy band. Perfect for all partners involved."
best remote control penis ring
Deimos
can be controlled with a remote
Hi, do you love remote control toys? Then you've gotta try this silicone cock ring, which has a unique rabbit ear design meant to cup the balls and provide extra stimulation where you want it most. And in addition to having two powerful vibrating motors in each rabbit ear, it's got seven vibrational modes and three intensity levels to send you into overdrive.
THE REVIEWS: "Just got to use it this week with the wife! Unlike most cock rings it's actually comfortable!" reads one review. "It's super similar to the Form 2 (which she LOVES). Works amazing, looks great, feels great! Well worth the money!"
best performance-enhancing penis ring
Tenuto 2
can help you get and maintain an erection
This universally-designed and majorly high-tech toy is made to fit around a variety of penises, delivering multiple targeted vibrations that help the wearer maintain their erection. Um, cool! Its four powerful motors also work to stimulate the perineum and scrotum—as well as a partner's bits during partnered sex—and the result is orgasmic pleasure for everyone involved. Oh, and did we mention that it's app-controlled?
THE REVIEWS: "Thank you all for this revolutionary male toy! It is incredible," one tester writes. "It really has helped in more ways than one—it's like I had a new penis replaced. You turned a 47-year-old back into a 17-year-old kid with testosterone flowing through his veins again."
best clit-stimulating penis ring
NŌS
made to accommodate a variety of sizes
can be tricky to get the placement right
If you want a cock ring that allows for non-stop clit vibration, then you should def give the NŌS a shot. The flexible ring has a two-pronged design that squeezes the clitoris between it (in a good way, ofc) and provides continuous vibration—plus, the intuitive touch control makes it easy to change settings, even when you're in the ~heat of the moment.~
THE REVIEWS: "I was a little bit nervous about trying this ring, since other ones I've tried have been stiff and hard to get on and off. But NŌS is really stretchy and super comfortable to wear compared to the other ones," says one reviewer. "I also like that it's waterproof so I can wash it easily and use it in the shower. I'll definitely use it regularly!"
most versatile penis ring
Vibrating Ring
fits around penis and testicles
ring could be a lil bit stretchier
Made with stretchable silicone material, this super-versatile ring can heighten the intensity of ~sexy time~ for you and partner, and it can also be used for solo play when you push the vibrating base into your perineum. It has 10 intense vibration modes, fits comfortably around the penis and balls, is totally waterproof, and has a rechargeable battery—all for less than $40.
THE REVIEWS: "Really love my cock ring from Cake—the rechargeable battery is a major plus," says one tester. "Prefer this ring to previous experiences with lesser quality silicone or metal rings."
most flexible penis ring
Mio
not as powerful as some would like
Anyone who loves rumbly vibes should invest in this silicone c-ring from luxe brand Je Joue, which comes packed with five speeds and seven vibe patterns. You'll also love that it's flexible, soft, and super-powerful, as well as the fact that it easily fits around a penis or dildo to deliver deep stimulation to both partners.
THE REVIEWS: "This cock ring is totally worth the splurge," one tester writes. "The heavy rumble of the vibration on this really goes deep into the skin, so even when it's on a low setting, you can still feel it through the whole shaft. Plus, the material is so soft and super stretchy, so it fits bodies of all sizes without being aggressive against the skin."
best rabbit penis ring
Frisky Bunny Vibrating Ring
amazingly affordable and packs a lot of power
may feel a tad tight on some
Obsessed with your rabbit vibe? Then this wearable stimulating ring from VēDO is well worth the try, as it allows you to add flickering bunny ears directly onto your partner's shaft or strap-on. It features five five modes, is easily rechargeable, and won't cost ya more than $30.
THE REVIEWS: According to one tester, "The silicon made it feel and fit comfortably. Wife absolutely loved it, as it [hit] the right spot on each movement. Battery seems to go on forever. Vibes are intense for both parties too. Four thumbs up."
best app-controlled penis ring
Verge
can be controlled from anywhere
may be a lil tricky to put on
This app-controlled toy from We-Vibe works as both a cock ring and a clitoral and perineum stimulator, which means it gives toe-curling sensations to everyone, no matter how you want to use it. The app makes it simple to use either in-person or for long-distance play, and the eight rumbly vibration settings and 10 strength levels can be totally customized to suit your fantasy.
THE REVIEWS: "This thing is the bee's knees," reads one review. "It's strong, [has] 10 different levels of strength [and] multiple different vibe modes, has just the right amount of weight, and does the job—very well at that! It's great for solo and couples. It also come with an app for long distance fun with a partner!"
most ergonomic penis ring
Atom Plus C-Ring
difficult to change speeds while using it
This uniquely-designed c-ring from Hot Octopuss features a VERY large contact area for grinding, a raised nub for added pressure and stimulation, and a super stretchy ring that'll adapt to all sorts of bodies. And let's not forget that it's wildly powerful, with dual integrated motors, plus five speeds and five vibe modes.
THE REVIEWS: According to one tester, "It is basically a cupped vibrator for guys. It wraps around the shaft and you can cup/palm it with your hand or lay it flat. Does it have strong vibrations? Ooooh yeah! The whole thing does not vibrate, but more like a pulsing plate that pumps up and down hitting your member…Strongest vibration I have felt outside of a corded Hitachi wand."
best battery-powered penis ring
Chunky Waterproof Vibrating Cock Ring
wicked cheap and waterproof
not at all flexible, so it may be too tight on some
If you're new to the world of c-rings and you're not sure you wanna make a huge investment just yet, then you should give this battery-operated option from Lovehoney a try. It's waterproof, easy to use, and can run for 30 minutes without needing a battery replacement—plus, it'll only set you back $9.
THE REVIEWS: "We purchased the Basics Vibrating Waterproof Cock Ring as an add-on to our order and weren't expecting much. All I can say is WOW!" one review reads. "This really opened up a whole new world for us. My DH (who wasn't keen on the idea at first) said he has never felt pleasure like it."
best multitasking penis ring
Snug & Tug
stimulates multiple erogenous zones at once
distance between ring and plug may be too short for some
This two-in-one penis ring and weighted butt plug from b-Vibe supports and grips the penis to provide longer, stronger erections, all while the weighted plug stimulates the anus and prostate. You'll love that it's made with silky-soft silicone and provides a sensual feeling of fullness—and as a bonus, it's 100 percent waterproof.
THE REVIEWS: "This thing is amazing!" one reviewer notes. "My erection stays fuller longer, and it's the perfect size to stimulate my prostate. I've had amazingly powerful orgasms ever since I started using it. Love the product."
This content is created and maintained by a third party, and imported onto this page to help users provide their email addresses. You may be able to find more information about this and similar content at piano.io
Advertisement – Continue Reading Below
Denial of responsibility!
Verve Times is an automatic aggregator of the all world's media. In each content, the hyperlink to the primary source is specified. All trademarks belong to their rightful owners, all materials to their authors. If you are the owner of the content and do not want us to publish your materials, please contact us by email –
[email protected]
. The content will be deleted within 24 hours.